Hans L Zetterberg
1927-2015
was a sociologist, an analyst of public opinion and values, and a publicist. This archive contains his bibliography and links to many of his publications, including completed parts of his latest work,
The Many-Splendored Society.



Hans L. Zetterberg, born 1927 in Stockholm, Sweden, came to the University of Minnesota in 1949 and did maintain The United States as his main base for 20 years. He taught sociology at the Graduate School of Columbia University and briefly at Ohio State University, where he was Chairman of the Sociology Department. He was also head of publishing at Bedminster Press which had the motto: "Books by scholars for scholars." A highlight of this position was the publication in 1968 of the full translation of Max Weber, Economy and Society, now available as a paperback from University of California Press. The members of American Sociological Association voted in 1997 this work as the 20th century's most influential book in sociology.

In his native country, Zetterberg was the first Chief Executive and organizer of The Tri-Centennial Fund of the Bank of Sweden, one of Europe's larger foundations supporting social science. He turned to the private sector and became a long-established professional pollster, Managing Director and owner of Sifo AB, a company for market and social research. He became Editor-in-Chief of the national daily newspaper, Svenska Dagbladet, and further developed his writing to reach an inquisitive general public.

Zetterberg is a past President of The World Association for Public Opinion Research. He is a member of the Royal Swedish Academy of Engineering.

In a multi-volume series, "The Many-Splendored Society," Zetterberg sums up essential knowledge of social science. This work is a theory that also systematizes in English much material from this archive and integrates it with classical and established parts of social science.

Zetterberg's key to social reality is simple and optimistic: if mankind has the capacity to cook previously unheard-of sentences, it also has the capacity to cook and serve social structures and cultures never before seen. However, only a minority of our sentences is new from generation to generation, and it takes effort to learn a new language. Societies and their institutions, likewise, can count on both long traditions and on manageable changes. "The Many-Splendored Society" is a great story about this achievement.

This web site served as a workshop and initial publisher of the series "The Many-Splendored Society" A total of seven volumes were planned. Several volumes are published by CreateSpace and Kindle. They are sold (printed on demand) as self-published paperbacks at Amazon and other Internet bookstores.

To test whether or not you want to read this work you may look at a file called A Book Project: The Many-Splendored Society. It contains the The Preface as it stood after four volumes and has a Guide to Readers unaccustomed to see social theory in (and as) ordinary language of their society.

Look below for finished volumes and fragments in progress on The Many-Splendored Society.
The progress of the writing of Zetterberg's manuscript "The Many-splendored Society" that began in 2002 is shown below. For an abstract of the manuscript see its updated "A Book Project: The Many-Splendored Society" mentioned above.

Reviews by readers to published volumes can be made on the location of the books on the Amazon catalogue. Anonymous and oral reviews are also accepted.

Anything below with links -- published or unpublished -- are open for reading, citation, vetting, and encouragements. Email Karin Busch Zetterberg at karinbusch@hotmail.com

Surrounded by Symbols. The Many-Splendored Society: Volume 1, 2009.
Third edition 2013. Illustrations in color. With friendly-to-reader end-notes. New enlarged third edition 2014 of Vol 1, in progress refile (285 pdf-pages).

A Book Project: The Many-Splendored Society
Introduction: Layman's Society and Social Reality
1. The Losing Spell of Augustus
2. The Proper Study of Humanity
3. Language and Its Distortions
4. Vibrations in Symbolic Environments
5. Linguistic Forms and Usages

The Many-Splendored Society: 2: An Edifice of Symbols (pdf)
2010. Second edition 2011.

Preface and Abstract
Introduction: Building the Social Order
6. Uniformity and Individuality, Laws and Contracts
7. Positions and Relations
8. Organizations, Networks, Media, and Netorgs
9. A Road from Gemeinschaft to Gesellschaft
10. Cardinal Values and Their Societal Realms
Additions and Changes to Volume 2 to be inserted in future editions

The Many-Splendored Society 3: Fuelled by Symbols (pdf)
2010. Second edition 2011.

Introduction: Fuel it with Words
11. Vocabularies of Justification
12. Ideological and Universal Justifications
13. Compelling Vocabularies of Likes and Dislikes
14. Compelling Vocabularies of Self-images
15. Compelling Vocabularies with Scales of Evaluation
16. Compelling Vocabularies Supporting Order
17. Justifying and Compelling Vocabularies Writ Large: Conscience and Non-violence
Additions and Changes to Volume 3 to be inserted in future editions

The The Many-Splendid Society 4: The Pursuit of Knowledge (pdf, draft of second filing)
2013.

The Pursuit of Knowledge. The Many-Splendored Society: Volume 4, 2013, second edition 2014 of Vol 4, in progress refile (278 pdf-pages).

Introduction: Societal Realms as Fundamental Parts of Social Reality
Part 1. SOCIETAL REALMS AND HOW THEY EMERGE
18. The Emergence of Science in Europe
19. Finding a Modus Vivendi and an Ethos of Science
Part 2. THE SOCIETAL REALM OF SCIENCE
20. The Contemporary Pursuit of Science
21. Rationalities in Science
22. Stratification and Rewards in Science
23. Universities Then and Now
24. Procuring to Science
25. Journalism and Science: News and the Cracking of Secrets
26. Providing a Knowledge Base for Education
27. The Use of Patents
28. On Applied Natural Science
29. Science in Deep Collaboration with Other Societal Realms



Additions and Changes to Volume 4 to be inserted in future editions


Current Work
on The Many-Splendored Society
Volume 5: In preparation


Beauty, Sacredness, and Virtue

(early

scraps

)


Part 1.

The

Societal

Realm of Art: A Search for Beauty and Beyond
Part 2. The

Societal

Realm of Religion: A Search for Sacredness
Part 3

. The

Societal

Realm of Morality: A Search for Virtue

Volume 6: In preparation
Wealth and Order (early scraps)
Part 1. The Societal Realm of Economy: A Search for Wealth
Part 2. The Societal Realm of Polity: A Search for Order

Volume 7: In early preparation
Life and the Good Life (very early scraps)
Introduction: Society's Coping
Technology and Nature; Biological Spontaneities
Household and Family
Age and Life Stages
Appendix: In preparation
A Schema Evolves (early draft)
List of Propositions

Zetterberg's Latest Papers in English:
"Asking for Justifications. An Aspect of Paul Lazarsfeld's 'Reason Analysis'" in Hannes Haas, Hynek Jerabeck, and Thomas Petersen (editors), The Early Days of Survey Research and Their Importance Today, Braumüller, Wien, 2012, Chapter 3, pp 43-48.(pdf)

"Notes on Theorizing in Sociology" Sociologidagarna 15-17 mars 2012, Stockholm. Lördag 17 mars pass 1, klockan 9:30-10:40. "Hur att teoretisera". Moderator: Richard Swedberg.
"A Vocabulary Justifying Revolutions" Sociologisk Forskning, vol 47 (2010), no.3, pp 75-81.pdf.fil
"Asking for Justifications. An Aspect of Lazarsfeld's Reason Analysis." A Footnote to WAPOR Thematical Seminar "The Early Days of Survey Research and Their Importance Today," Vienna, Austria. July 1-3, 2010

"Time to Go Beyond Demography in Reporting Public Opinion." Paper presented at the 63rd Annual Conference of World Association for Public Opinion Research (WAPOR), May 11-13, 2010, Chicago, IL
"Hohfeldian Tables and Semiotic Squares as Tools of Economic Jurisprudence." Notes by Hans L Zetterberg for discussion at the Hohfeld Seminar, Hotel Gellert, Budapest, June 1-4, 2009.

"Opinion Polling on International Political Accords," (not online) in Helena Flam and Marcus Carson (eds.), Rule Systems Theory. Applications and Explorations, Peter Lang, Frankfurt am Main, 2008, pp. 229-241.
"Using Societal Realms in Sociological Analysis." Paper presented in the session "Civil Society, the State, and Social Change" at the meeting of the International Institute of Sociology (IIS) in Budapest, June 26-30, 2008.

Two chapters (not on line) in Handbook of Public Opinion Research edited by Wolfgang Donsbach and Michael W. Traugott , Sage Publications, London, 2008: "The Start of Modern Public Opinion Research," pp. 104-112 and "Identifying Value Clusters in Societies," pp. 417-425.
"Old and New Conceptions of Public Opinion on Issues and the Missing Auxiliary Questions in Media Polls", Paper at the 60th conference of World Association for Public Opinion Polls (WAPOR), Berlin, September 19-21, 2007.
"The Grammar of Social Science." Acta Sociologica, vol 49, no.2 (September 2006), pp 245-256.
"Opinion Polling on International Political Accords", Amended first half of a paper presented at the 58th annual conference of WAPOR in Cannes, France, September 15-17, 2005.
"Enlightenment in Western and Non-Western Polling", Amended second half of a paper presented at the 58th annual conference of WAPOR in Cannes, France, September 15-17, 2005. "How on earth can we live together?" A Vision from the Present, Tällberg Forum 2005.

"How Sociology May Cope with Some Findings from Linguistics and Philosophy of Language", Paper presented to Session A on "Philosophical Ideas in Sociology" at the 37th Congress of The International Institute of Sociology, July 5-9, 2005 in Stockholm.
"US Election 1948: The First Great Controversy about Polls, Media, and Social Science", Paper presented at the WAPOR regional conference on "Elections, News Media and Public Opinion" in Pamplona, Spain, November, 24-26, 2004.
"Age, Sex and Opinion Polls", WAPOR seminar "Quality Criteria in Survey Research V", Cadenabbia, Italy, 2004-06-24.

"Social Science Theories and the Study of Public Opinion". WAPOR annual meeting, Prague, 2003-09-17/19. Slideshow.

"Categories for Social Science", Paper presented to the Working Group on Sociological Categories and Classifications at at the annual conference of the Swedish Sociological Association, in Örebro, 2003-01-30

"Has Methodological Sophistication Been Lost or Gained? Election Polling in the 1970s by Sifo, Sweden" (with Karin Busch Zetterberg) Paper presented at "Quality Criteria in Survey Research" a WAPOR Thematic Seminar in Villa La Collina, Cadenabbia, Lake Como, Italy 2002-06-27/29. Slideshow.

"Value Change and Party Allegiance in Sweden since 1990", WAPOR annual meeting, St Petersburg, FL, 2002-05-14/16. Slideshow.

"Introduction" to new printing of Social Theory and Social Practice (1962 book), Transaction Publishers, New Brunnswick, NJ, 2002. A summing up of 40 years of experience as a consultant.


Zetterberg's Latest Papers in Swedish:
"Mot en modus vivendi liberalism" in Andreas Bergh and Gabriel Ehrling (editors), En bit på väg. Triumfer för liberalismen och hot mot det liberala samhället. Bertil Ohlins förlag, Stockholm 2013, pp. 90-103.

"En kakofoni av ideologier" (Mona vill ha en egen måne), Axess Magasin, nr 7, oktober 2008, s 8-9. Manus.

"Liberalismens triumf". Diskussionsinlägg av Hans L Zetterberg på Liberala ekonomklubbens 30-årsjubileum, den 3 oktober 2012 på Handelshögskolan, Stockholm.

"Den borgerlige optimisten"

.

PJ Anders Linder 50 år, Industrisalen, Stockholm 2012-06-05.

"Kartläggning av värderingar". United Minds seminarium 2012-03-13 i Stockholm om en deras nystart av ValueScopes metod att mäta värderingar.

"Gösta Bohman och ett samhälle för hans barnbarnsbarn". Gösta Bohmans Minnesfonds seminarium "Idéernas betydelse i politiken", Stockholms Handelskammare den 22 november 2011.(pdf-fil)

"Civilsamhället och den politiska sfären". Mini-seminariet Borglighetens Framtid, Timbro, Stockholm 2011-04-04.

"Jämlikhet och värdihet" anförande på Nordiska Rotarianer, Los Naranjos i Marbella 2011-03-25.

"Mittfältet håller" Diskussionsinledning om valresultatet 2006 på privat möte i Lilla Sällskapets lokaler i Stockholm 2006-09-29.

Valet 2006: Borgerligheten segrar men (s)-samhället består? Diskussionsinledning på Svenska Ekonomiska Klubben, Valbonne, Frankrike, 2005-09-19.

Three related discussion openings: Borgerlighetens framtid – Kan krisen leda till utveckling? Inledning till Heimdals seminarium den 10 maj 2003-05-10. "Den centrala zonen sätter tonen", Marknads-ekonomiska klubben, Stockholm, 2002-12-03,and "Idéer som vinner", Högerpressens årsmöte, Stockholm, 2002-11-07

"Den svenska väljarkårens förändrade värderingar sedan 1990". From Temo's seminar Ett halvår före valet, 2002-03-15. Slideshow.
Latest slides in English:

"Civil Society in Research and Praxis". Keynotes at 4th Annual Meeting of the European PhD Network on Civil Society held at the Center for Management and Organization in the Stockholm School of Economics. Stockholm, Sweden, 2004-05-30

"Public Opinion", International Social Science Seminar, Stockholm University, 2004-03-29.
Latest slides in Swedish:

"Förord till politik för familj och hushåll, och några förslag som moderata familjegruppen förordar" (with Hillevi Engström),

Moderatkvinnornas råd, 2006-05-21.

"Sifos 50-årsjubileum", Grand Hotel, Stockholm, 2004-10-16

"Framväxten av väljarbarometrar i Sverige", From Statistiksamfundets surveysektion's workshop Väljarbarometrar i Sverige idag, 2002-04-23.

Out-of-print updates:
A new printing of Social Theory and Social Practice from 1962. With a new introduction by the author. Transaction Publishers, 2002.

Read on this web site:
Arbete, livsstil och motivation from 1977 (Posted November 2001).

Det osynliga kontraktet from 1983 (Posted December 2001).

On Theory and Verification in Sociology 3rd ed, from 1964
(Posted March 2003).

Om sexuallivet i Sverige, from 1969 (Posted July 2002).

—
Two hard-to-find technical papers on the construction and evaluation of the original version of "Sifos väljar-barometer" (electorate poll) can be read on this site: "Using Data on Party Support in the Last Election in Polls of Party Sympathies between Elections" (In Swedish: "Användning av information om parti i senaste val av mellanvals-periodernas partisympati-undersökningar")
and
Sifo's Election Poll and its Deviations,1967-1978. (In Swedish: "Sifos väljarbarometer och dess avvikelser 1967-1978")
—
An English translation, Sexual Life in Sweden, of 'Om sexuallivet i Sverige' with an extensive introduction by Graham Fennel published 2002 by Transaction Publishers
.
Do you read Swedish?
Tip: Many of Zetterberg's news analyses, columns and public speeches are reprinted on this web. Enter various keywords from a topic in the Swedish public debate in Search or Google (above) and you get a list of reprints containing the keywords. By this method we have pulled together and organized the three summaries below. They illustrate Zetterberg's perspectives on current affairs, which combine history of ideas, opinion surveys, and insights from social theories.

The assassination of Olof Palme and its aftermath (Lönnmordet på Olof Palme och dess efterspel)

The wage earners funds: the Swedish attempt to socialize the corporations (Löntagarfonderna: det svenska försöket att socialisera företagen)

In the shadow of the Cold war the Swedes celebrated neutrality (I det kalla krigets skugga sjöng svenskarna neutralitetens lov

Zetterberg's Part in the Creation in 1990 of the Platform
"Idéer för vår framtid" for the Swedish Moderate Party
Four background drafts:
Om samhällsutvecklingen och dess drivkrafter
Om stora och lilla världen
Om allsidighetens samhälle
Om arbetslivets förnyelse
Preface to Program "Idéer för vår framtid" s1990
Presentation to Parliamentary Party s1990-05-02
Introduction to Debate at Party Convention s1990-11-09
Three follow-up presentations to the Moderate Party:
s1991 s1994 s2004
*
Comments on later moderate programs:
*
Family policy 2005-06
"Staten, familjen och hushållet". Delrapport 1 från moderaternas familjepolitiska grupp, augusti 2005
Overheadbilder

Samples by Topic from the Archive:
Check samples below and your selection appears in a new window, and/or, do this:
| | |
| --- | --- |
| | From the line on top select the part of the archive you want to enter. |
| | Then select from the list to the left the item you want to read, if it has received a link. |
| | In this window you then read listed items with links. |
Find specific selections by using "Google" above:
From time to time new items and new links are added. Let the webmaster know if you need the full text of a particular item not yet linked.
Latest addition is a review of the history and possible future of the Swedish system of social insurance (from 1995 in Swedish). A noteworthy addition in English has been a conclusions from a large research program on the social state sponsored by he Swedish Free Enterprise Foundation (from 1997). This paper is again relevant due to the political rhetoric about the "European social model."
Another addition in Swedish is a paper from 1995 reminding Swedes, a people who then thought that society consisted of only of economy and politics (and who insist on calling the state "society"!) that a civil society exists and is important for democracy and welfare.
About one tenth of the planned work on this archive remains to be done.
Echoes of and commentaries on works by some major writers of social science
(Italics=Text in English on classics of sociology:)
Daniel Bell Herbert Blumer Edmund Burke Kenneth Burke Ernst Cassirer Noam Chomsky Charles H Cooley Karl Deutsch Mary Douglas Robert Dubin Émile Durkheim George Gallup Milton Gordon Alvin W Gouldner Wesley Newcomb Hohfeld Ulf Himmelstrand George C Homans Ronald Inglehart Jane Jacobs Hans Kelsen Paul F Lazarsfeld Juan Linz Seymour Martin Lipset Niklas Luhmann Michael Maccobi Henry Sumner Maine Karl Marx George H Mead Robert Michels Arnold Mitchell Charles Morris Elisabeth Noelle-Neuman Richard H Niebuhr Michael Oakshott José Ortega y Gasset Vilfredo Pareto Talcott Parsons Karl Popper David Riesman Arnold M Rose Jerry D Rose Claude Henri de Saint-Simon Torgny Segerstedt Georg Simmel Edward Shils Adam Smith Pitirim Sorokin Göran Therborn Alexis de Tocqueville Ferdinand Tönnies Alfred Verdrass Max Weber Aaron Wildawsky Daniel Yankelovich
Consult the Index in The Many-Splendored Society for other references.
Selected topics in the archive
(e=English s=Swedish) This index is under development
General Social Theory:
The grammar of social science e2006. Compliant actions e1957. Mobilization of Action: Its Causes and Consequences e 1963. Theory construction methods e1964. Input from linguistics and philosophy e2005 s2005. Categories e2003. Short early lectures in Swedish on "Det allsidiga samhället" (The Many-Splendored Society) s1984 and s1991.
Consult the "Current Work" (above) of the manuscript in English on "The Many-splendored Society" for specific topics of social theory.
Sweden:
Insured contracts e1967. Rational humanitarians e1984. Decline of bourgeois elites s1986, rise of socialist elites s1987, and a failed socialist attempt at the business elite s1976-93. A vision of society and its bourgeois prospects s1992. Socialist and bourgeois rule s1998. The central zone in Sweden s2002 s2003. The Swedish comedy becomes tragic s1988. A celebration of neutrality s1982-88. Sex in Sweden s1969. Alcohol in Sweden: volume e2000 (pdf), policy s1999. Voluntary associations s1961.
Europe:
Differentiation and structuration e1996. States nations, regions s1991. War and peace s1987. Culture s1987. Population e1996 s1994. EU s1992a s1992b. Subsidiarity s1992. Communist Europe s1987. Eastern European civil society s1993. Nordic sociology s1966. Nordic cooperation s1973.
Globalization:
Globalization e2005. Future s1987. Economy s1988. Work places s1996.
Analysis of Values:
Summaries: Shifts in major value orientations s1983. The study of values e1997. Cultural values in market research e1998.
Life styles: Swedish life styles s1977. Teetotalism s1979. Active in state church s1983 and in free churches s1979. Life styles and their motivation by VALS s1980.
Studies with a European VALS system: Summaries: Conception e1980 and Swedish application e1982. The politics, values, and lifestyles during economic stagnation s1983. Values and nuclear energy e1980 s1980. Values and scientific development s1984. Values in the work place e1984. Bank customers e1981.
Studies with the RISC system of the 1980s: Overheads e1985. Value pattern (with a note on the Stockholm morning papers) s1986. Values and food e1985. Values in the international market place s1986.
Studies with the Agorametri system: The European Community and Swedish Values s1991.
Studies with the Valuescope system: First summary e1992. Fragrances e1994. Banks s1999. Changing values in the Swedish Electorate s1993 s2002. Election campaigns s1994. Effect of education on values s2001.
Miscellaneous: First measure of post-materialism in Sweden s1977.
Analysis of Public Opinion:
Opinion shifts: Waves of red, green, blue, white opinions s1984. Shifts between tragic and comic opinion climates s1988. Generational layers of opinion s1978. Reactions to severe declines s1993 and to anomie s1997. More on anomie: the management of expectations e1971.
Opinion formation: In personal political conversations s1995 s1999. In the central zone s2002. The organized interests and the intelligentsia in opinion formation s1982. Media and journalism s1990 e1992. The main actors in Swedish opinion formation s1987.
Opinion research:
method, theory, practice
: e
2003
s
1977
s
1978
. Need for auxiliary questions in media polls e
2007
Help for editors in judging polls s
1986
. The 1948 polling debacle e
2004
. Demographics in polls: social class s
1969
age and sex e
2004
. Polling on treaties e
2005
. Opinion journalism s
1986
. Post-stratification in election polls s
1976
e1976
s
1986
. Authority and climate effects in party standing polls s
1988
. The spiral of silence s
1987
. Ethical rules of opinion research s
1986
.
Dinerman
Award: Citation, Personal experiences, and Three eras of polling e
2000
.
Swedish Elections:
The Body Politic:
The Swedish Welfare State:
General Propositions about Social States Illustrated by Sweden e1997. Other summaries e1999 s2004. Social Insurance s1995. Relation to civil society s1995.
Civil Society:
Civil Society and Other Societal Realms s2011. Civil Society, Democracy, and Welfare s1995. Civil society and total society s1999 e2004. Philanthropy s1966 s2000. Family and household s2005.Voluntary associations s1961. Temperance movement s1979-1. Free churches s1979-2.
The Economy:
| | |
| --- | --- |
| | Entrepreneurship: Patents e2011. Traditional style e1978. New style s1987. |
| | Socialization: Rhetoric and reality s1975. Wage earners funds. |
| | Work and workplaces: Work and work ethics in six countries s1983. A manifesto on work e1985 with data s1991. Invisible contract s1983 e1985. |
| | Wage negotiations: Main scenarios s1984. European comparisons s1996. Relations to politics s1988 s1998. Relation to welfare s1996. Solidary wages in Europe s1969. Setting wages s1983. Futures for unions s1984. Future for SAF (Swedish Federation of Employers) s1987. |
| | Finance: Money s1996. Banks e1981 s1999. Central banks s1995. Stock market crash s1987. |
| | Consumers and investors: Cycles s1987. Stock market players s1987. Consumer confidence s1983. |
Mass Media:
| | |
| --- | --- |
| | Journalists and scientists e2007 Media power s1990. Media and industry s1979 Herald Tribune s1987. Media, ideology, and the Spiral of Silence e1992. Reading ads s1975. |
Youth Generations:
Inclusion and Exclusion:
| | |
| --- | --- |
| | Diversity and discrimination e2007 Nationalism s1991. Ethnicity s1995. US & European immigration policy s1993. Assimilation and integration policy s1993. Tolerance s1992. |
| | Islamic Attitudes towards USA e2002. |
Rationality:
| | |
| --- | --- |
| | In classical age s1966. In modernism s1986. In Sweden e1984. In "many-splendored society" s2002. |
Superstition and Unreason:
Folk beliefs s1979. Disaster predictions for mankind s1997. A miracle medicine s1976.
Intellectuals and Professions:
Journalists and scientists e2007 Bureaucrats, technocrats, and intellectuals s1987 s1996. Scientists s1965 e1968. Jurists s1987. Journalists s1990. Social workers s1996. Teachers s1988. Funding of research s1966.
Technology:
Swedish attitudes to technology s1978. Modern technologies at work places s1983. Nuclear energy referendum e1980. Chernobyl e1986.
Some Institutions:
Retailers. Schools s2001. Universities e1956. Museums e1968. Family s1993 s2005.
Scenarios:
Scenario writing s1984. Short scenarios s1982-88.
Zetterberg's writings as of 2002 in the "invisible college" of social science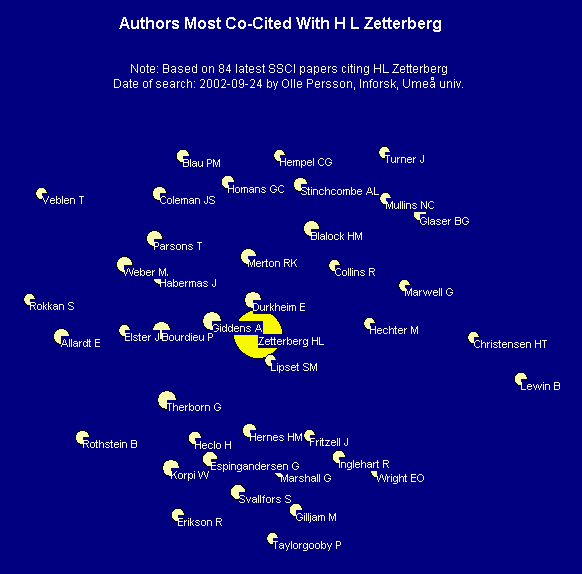 Ten most visited pages in the archive during 2007:
The Demography of Europe (1996)
Europas stater, nationer och regioner (1991)
Surrounded by Symbols (2005-06)
On Theory and Verification in Sociology (3d ed 1964)
Det rationella i modernismen (1987)

The Sociology of Values: The Swedish Value Space (1992)
European Proponents of Sociology Prior To World War I (web book 1993)
Konservatismen och USA:s författning (SvD 1987)
Cultural Values in Market and Opinion Research (1998)
Most visited pages in the archive 2003-04 2006
Site opened March 5, 2000.
Seal by Ben Shan.
Photo by Uggla.