| | | |
| --- | --- | --- |
| | | 39 |
Questionnaire and ballot-papers for Sifo's election poll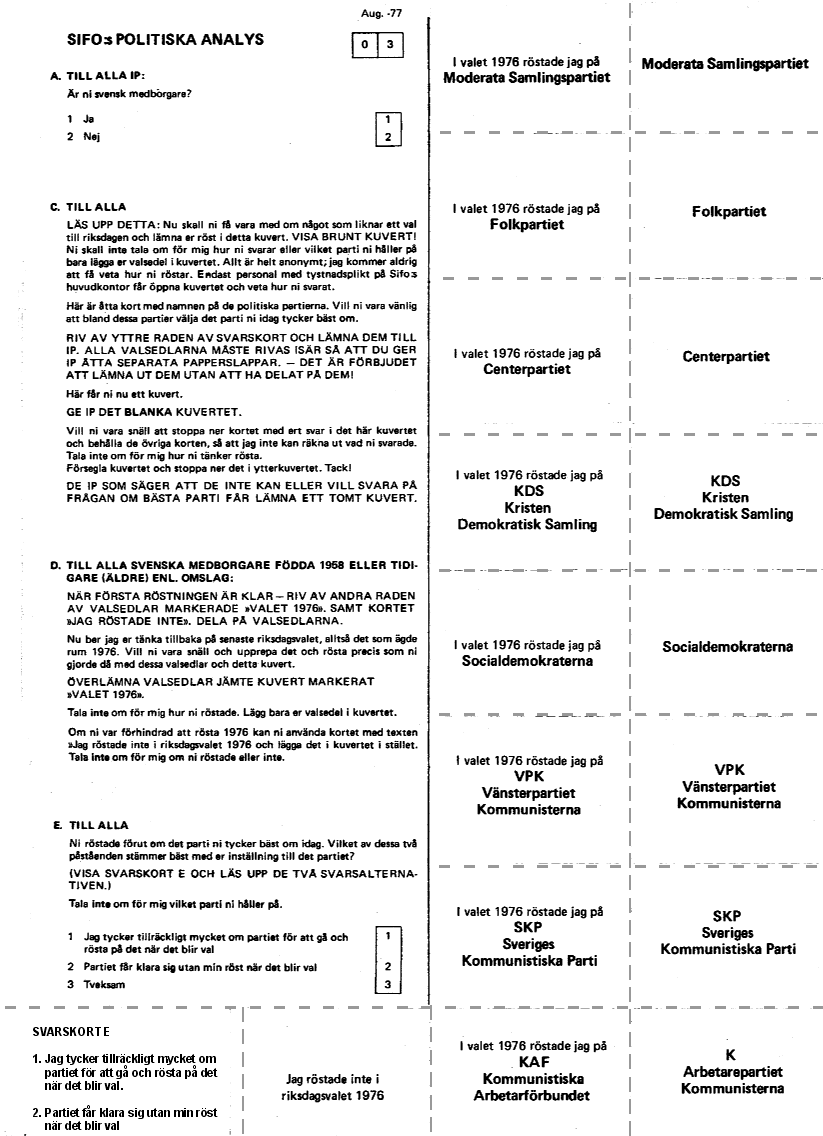 A. Are you Swedish citizen? Yes No
C. TO ALL. PLEASE READ: You will now take part in something similar to an election for parliament and leave your vote in this envelope. SHOW BROWN ENVELOPE. Do not tell me how you vote or which party you favor. Only put your ballot in the envelope. Everything is totally anonymous. I will never know how you voted. Only personnel at the Sifo´s head office may open the envelope and find out how you voted.
Here are eight cards with the names of the political parties. Please choose the party you like the best today. TEAR OFF THE OUTER ROW OF BALLOTS AN HAND OVER TO RESPONDENT. ALL BALLOTS MUST BE SEPARATED SO THAT YOU HAND OVER EIGHT DIFFERENT PIECES OF PAPER. IT IS NOT ALLOWED TO HAND THEM OVER WITHOUT SEPARATING THE BALLOTS.
Here is an envelope. HAND RESPONDENT THE BLANK ENVELOPE!
Please put your ballot into this envelope and keep the rest so that I cannot figure out how you answered. Do not tell me how you plan to vote. Please, seal the envelope and put it into the larger envelope. PERSONS WHO SAY THAT THEY CANNOT OR DO NOT WANT TO ANSWER THE QUESTION ON BEST PARTY MAY LEAVE AN EMPTY ENVELOPE.
D. TO ALL SWEDISH CITIZENS BORN 1958 OR EARLIER ACCORDING TO THE COVER:
WHEN THE FIRST VOTING IS READY, TEAR OFF THE SECOND ROW WITH BALLOTS "ELECTION 1976" AND THE CARD "I DID NOT VOTE". SEPARATE BALLOTS.
Now I would like you to think back on the latest election for parliament, which took place in 1976. Please repeat and vote exactly as you did then. Please use these ballots and this envelope.
HAND OVER BALLOTS AND ENVELOPE MARKED "ELECTION 1976".
Do not tell me how you voted. Only put your ballot in this envelope. If you did not have the opportunity to vote in 1976, you can use the ballot with the text "I did not vote in the parliamentary election in 1976" and put it in the envelope instead. Do not tell me if you voted or not.
E. TO ALL: You voted earlier for the party you like the best today. Which of these two statements comes closest to your view of that party? SHOW CARD E AND READ ALOUD THE TWO RESPONSE ALTERNATIVES.
Do not tell me which party you prefer.
1. I like the party enough to go and vote for it on Election Day
2. The party will have to get along without my vote when election comes
3. Do not know